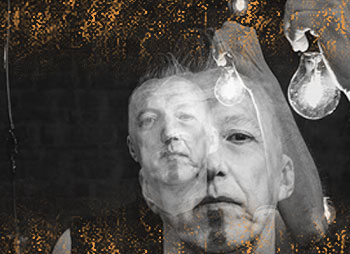 Seit drei Dekaden aktiv, zählen Suicide Commando nicht nur zu den Pionieren des härteren Electro-Genres, sondern auch zu seinen wichtigsten Innovatoren.
Gegründet im Sommer 1986 von Johan van Roy, machte die Band sich schnell mit einer Reihe von selbstveröffentlichten Tapes einen Namen. Als 1994 dann endlich die erste, offizielle CD, "Critical Stage", erschien, wurde Suicide Commando schnell zu einer der populärsten und wichtigsten Gruppen der Szene.
Auf dieser und allen folgenden Veröffentlichungen hat sich Van Roy zum Ziel gesetzt, die dunkle Seite der Menschheit mit peitschenden Beats, dunklen, atmosphärischen Synthesizer-Klängen und einem faszinierend-psychotischen und unnachgiebig-aggressivem Gesangsstil zu erforschen. Mit zeitlosen Club-Klassikern, wie dem bahnbrechenden "See You In Hell" oder "Hellraiser" und einem beeindruckenden Aufgebot an erfolgreichen Album-Veröffentlichungen, von den Klassikern "Mindstrip", "Axis Of Evil" und "Implements Of Hell", bis hin zum apokalyptischen 2013er Meisterwerk "When Evil Speaks", bleiben Suicide Commando Genre-Innovatoren und arbeiten stetig an der Weiterentwicklung ihres klanglichen Markenzeichens eines synthetisch heraufbeschworenen Höllenritts.
Die Band ist ein häufiger und gern gesehener Gast auf den größten Szene-bezogenen Festivals rund um den Globus und ist bekannt für ihre Energie-geladene Bühnenshow. Mit einer stetig wachsenden, treuen Fanschar im Rücken, bleiben Suicide Commando einer der beliebtesten Live-Acts der Szene.
Die Gruppe arbeitet derzeit an ihrem nächsten Album – die ausverkaufte, limitierte Vorab-Single "The Pain That You Like" lässt hier wieder einmal nichts Geringeres als einen neuen Hard-Electro-Meilenstein erwarten.
- english -
Going strong for 30 years, Suicide Commando have not only been pioneers of the harder Electro genre, but continue being innovators up to this very day.
Formed in summer 1986 by Johan van Roy, the band made a name for itself through a series of self-released tapes from the late Eighties to the early Nineties. When the group released its first full-length CD "Critical Stage" in 1994, it soon would evolve into one of the most popular and important acts of the scene.
On this and all of the subsequent releases, Van Roy explores the dark side of humanity with lashing beats, haunting atmospheric electronics and an addictively psychotic and relentlessly aggressive vocal style. With eternal club hits, such as the seminal "See You In Hell" or "Hellraiser" and an impressive roster of successful album releases, from the classics "Mindstrip", "Axis Of Evil", "Bind, Torture, Kill" and "Implements Of Hell" to the apocalyptic 2013-masterpiece "When Evil Speaks", Suicide Commando continue to be genre-defining while always evolving their very own trademark sound of synthetically-induced mayhem.
They are a regular guest at the biggest scene-related festivals around the world and are renowned for their energetic stage performance. With an ever-growing rabid fan base at their back, Suicide Commando are one of the most popular live acts of the entire scene.
The band is currently working on the next album and, judging from the sold-out advance single "The Pain That You Like", it will be nothing short of another Hard-Electro-milestone.
Zurück zum Line-Up / Back to Line-Up