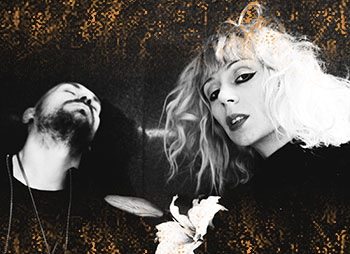 NNHMN ist ein in Berlin ansässiges Duo für dunkle elektronische Musik, das stimmungsvolle und provokative Musik kreiert, die von satten und elektrisierenden Synthesizer-Linien, pulsierenden rhythmischen Grooves und geisterhaft verführerischem Gesang durchdrungen ist. Lee Margot und Michal Laudarg haben sich auf eine klangliche Reise zu den Schwellen des Neuen Brutalistischen Theaters und der experimentellen elektronischen Musik mit einem Fundament in der Techno-Kultur begeben.
Der berauschende Sound von NNHMN ist geprägt von analogen Texturen und arpeggierten Basslinien, mit einem Sinn für klangliche Erkundung, der von Post-Punk bis hin zu Haunted Synth-Wave und Dark-Disco reicht. Obsessive Synthesizer-Linien, schwüle Gesangseinlagen und tanzbare Grooves führen den Hörer durch ein spannendes, mehrdimensionales Universum mit minimalen Synthesizer-Qualitäten und Gothic-Untertönen. Techno ist auch hier präsent, in ihrem speziellen Universum.
Dieses Jahr erschienen bereits zahlreiche Singles und ein neues Album wurde angekündigt. Auf dem diesjährigen AMPHI wird NNHMN ihr Debut geben und das Publikum durch ihre Sounds begeistern, denn die Band hat sich auf einen klareren, greifbareren Sound konzentriert, der durch seine verstimmten Leads und pochenden Rhythmen greifbare Substanz und Kante besitzt. Diese Position konzentriert sich auf einen cluborientierten Darkwave, der auch außerhalb der üblichen Demografie dieses Sounds eine solide Reichweite hat. Circle of Doom entwickelt sich zu der Art von bahnbrechendem Album, das in allen möglichen dunklen Clubs unausweichlich sein wird. Hier gehen Elektro-Rhythmen und Programmierungen Hand in Hand mit der geisterhaften Seite von NNHMNs Auffassung von moderner, elektronischer Darkwave-Musik.
NNHMN is a Berlin-based dark electronic music duo, creating moody and provocative music infected with rich and electrifying synth lines, throbbing rhythmicgrooves, and ghostly seductive vocals. Lee Margot and Michal Laudarg haveembarked on a sonic journey onto the thresholds of New Brutalist Theatre and experimental electronic music with a foundation in techno culture.
NNHMN's intoxicating sound is defined by analogue textures and arpeggiated bass lines, with a sense of sonic exploration that veers from post-punk to haunted synth-wave and dark-disco. Obsessive synth lines, sultry vocal deliveries, and danceablegrooves guide the listener through a thrilling multi-dimensional universe with minimal synth qualities and gothic undertones. Techno is also present here, in their specialuniverse.
This year already released numerous singles and a new album was announced. At this year's AMPHI NNHMN will make their debut and inspire the audience with theirsounds, because the band have prioritized a clearer, more graspable sound that hastangible substance and edge via its detuned lead and throbbing rhythms. This position focuses on a club-oriented darkwave and one with solid reach outside of thatsound's usual demographics to boot. Circle of Doom is shaping up to be the sort ofbreakthrough record which will be inescapable in all manner of dark clubs. Here electro rhythms and programming come hand in hand with the ghostlier side ofNNHMN's take on modern, electronic darkwave music.
Zurück zum Line-Up / Back to Line-Up