xotox - rhythmisch elektronisch seit 1998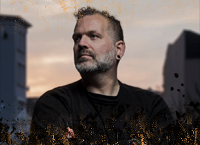 Vor zwanzig Jahren verdrängte xotox den Futurepop von den Tanzflächen und trat eine Welle der härteren, tanzbaren Klänge los. Als Vorreiter dieser Bewegung brachte er mehrere Nummer 1-Alben in den DAC (Deutsche Alternative Charts) unter. Weltweit wurden zahlreiche Live-Shows absolviert und die wichtigsten und größten Szene-Festivals bespielt. Auch nach zwanzig Jahren ist xotox´ Sound einzigartig, unerreicht und kompromisslos in der Ausführung. Im Jubiläumsjahr wird daher bei Live-Shows sowohl ein Querschnitt aus dem bisherigen Schaffen, als auch brandneues Material gespielt – ein Ereignis, welches man sich nicht entgehen lassen sollte.
-english-
xotox - rhythmisch elektronisch since 1998
Twenty years ago, xotox played a fundamental part in displacing Futurepop from the dance-floor; sending a ripple throughout the scene, that satiated a hunger for harsher, yet still dance-able sounds. His position as a forerunner of this movement was further cemented by the placement of several number 1 albums in the DAC (German Alternative Charts). Numerous live shows have taken place all over the globe, incorporating some of the most important and largest festivals that the scene has to offer. xotox's unique and unrivaled sound; is still as uncompromising as the day the project came into existence. In this, xotox's anniversary year; Andreas Davids promises to bring an exciting sequence of live shows, containing a cross-section of the work done so far, bolstered with brand new material. Altogether, these events promise a series of shows that should not be missed.
Zurück zur Line-Up Übersicht / Back to line-up overview