CHROM wurden im Mai 2007 von Christian Marquis und Thomas Winters gegründet, nachdem diese nach langjähriger Bekanntschaftihre gemeinsame Vorliebe für knallige, tanzbare aber gleichzeitig melodische Electro-Sounds entdeckt hatten. Der Bandname setzt sich aus den Vornamen der beiden Musiker (CHRis und tOM) zusammen.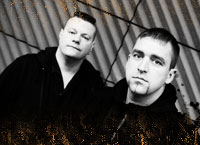 CHROM stehen für eine effektive Synthese aus Synth Pop, EBM und Club-Electro, will heißen: satte Beats, durchdringende Bässe, die gerne auch richtig druckvoll sein können, ganiert mit Ohrwurm-Melodien. Das Debütalbum "Electroscope" erschien im April 2010 auf Fear Section, im Vertrieb von Out Of Line Music.
Die Band ist seitdem mehrmals mit großem Zuspruch im Vorprogramm der Gruppe Blutengel getourt und. Im März 2012 veröffentlichen CHROM ihr zweites Album "Synthetic Movement" auf Out Of Line Music, auf dem sie ihren charakteristischen Sound zwischen Club und elektronischem Pop weiter perfektioniert haben. Join the Movement!
- english version -
CHROM were formed in May 2007 by Christian Marquis and Thomas Winters, after both discovered their mutual love for solid, club-compatible yet melodic Electro sounds. The group's name is a combination of the two musician's first names (CHRis and tOM.) CHROM stands for an effective synthesis of Synth Pop, EBM and Club-Electro, i.e.: massive beats and powerful bass with a harder edge, garnished with ultra-catchy melodies. The debut album "Electroscope" was released in 2010 on Fear Section, with distribution by Out Of Line to a lot of critical acclaim.
The band has since toured repeatedly and highly successfully as support for the Berlin-based legend Blutengel. In March 2012, CHROM are releasing their second outing "Synthetic Movement" on Out Of Line Music, which further elaborates on the group's trademark fusion of Club and electronic Pop music. Join the movement!
Zurück zur Line-Up Übersicht / Back to line-up overview