LAX.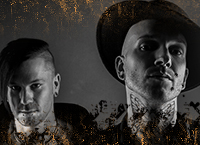 Aesthetic Perfection returns home with the new single, "LAX." By twisting the name of Los Angeles' iconic airport into a cold, robotic chant, Daniel Graves conjures up feelings of love and loss of identity with underpinnings of aggressive, groovy, old-school EBM and electro house. For Graves, the homecoming is both symbolic and literal: "LAX" harkens back to the early days of Aesthetic Perfection while being firmly planted in the present. Available worldwide on July 22, "LAX" is the first release on Daniel Graves' newly-formed Close to Human Music label, and will feature remixes by Mr.Kitty and Kanga.
Aesthetic Perfection is the solo project of Los Angeles-based producer Daniel Graves. Over a career spanning 15 years, five full-length albums, and numerous singles and music videos, Graves has reinvented what it means to be a dark electro artist, combining industrial, pop, goth, and everything in between. Aesthetic Perfection defies definitions in a world that demands them.
RHYTHM+CONTROL JULY 2017

Aesthetic Perfection's groovy, gripping new single, "Rhythm + Control," is a mid-tempo anthem that oozes attitude. A blend of '80s metal, industrial, and new wave, the song dissects love's struggle to survive the repetitions and routines of everyday life. Once again, Daniel Graves has crafted something completely unique — and wholly unexpected. The single contains two versions, both of which feature guest vocals from the illustrious William Control and dark-pop princess Nyxx. Driven by the guitar work of Black Veil Brides' own Jinxx, the original mix delivers his signature harmonic leads and gut-punching riffs. The electro version, with its pulsing, powerful synths, sets its sights directly on the dancefloor. "Rhythm + Control" is a startling but fitting addition to the discography of a band that refuses to be defined by or confined to genre. Available July 7 on Close to Human Music via all major platforms and outlets.
Zurück zur Line-Up Übersicht / Back to line-up overview