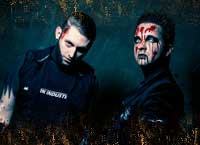 "Crank It Up!" ist der Titel des neuen [x]-Rx Albums , welches am 28. November 2014 seine Veröffentlichung feiert.
Ganze zwei Jahre ist es schon her das [x]-Rx (bestehend aus Pascal Beniesch und Jan Teutloff) den Release ihres Erfolgsalbum "Activate the Machinez" zelebrierten. Seitdem bereiste die Band unzählige Festivals wie das WGT in Leipzig, das M'era Luna in Hildesheim, das E-Tropolis in Berlin und Oberhausen und auch das Amphi Festival in Köln, der Heimatstadt von [x]-Rx Mastermind Pascal Beniesch.

Zudem tourten [x]-Rx mit Aesthetic Perfection einmal quer durch die USA und spielten Konzerte in Mexico, Norwegen oder Griechenland um quer über den Erdball ihre Songs mit ihrer ständig anwachsenden Fangemeinde zu feiern, denn Konzerte mit [x]-Rx sind vor allem "Eskalation und Party".

Somit wurde es 2014 nun endlich Zeit für neues Material.
Pascal Beniesch erschuf ein musikalisches Artefakt mit gewohnten Zutaten in bewährter Ausstattung. Zwölf eingängige Songs voller Energie und Kraft mit dem Ziel erneut die Tanztempel der Nationen zu erobern.
Crank It Up!" Viel Bass, Dynamik und das absolute Verlangen nach : "Dreh mal lauter",
Crank up the volume! Der Titel ist PROGRAMM.
- english -
Two years ago, [x]-Rx (Pascal Beniesch and Jan Teutloff) were celebrating the release of their successful album "Activate the Machinez". Since then, the band has been touring various festivals, including WGT in Leipzig, M'era Luna in Hildesheim, E-Tropolis in Berlin and Oberhausen and the Amphi Festival in Cologne, home of [x]-Rx mastermind Pascal Beniesch. Touring alongside Aesthetic Perfection, they played for growing fan communities all across the globe, including the U.S., Mexico, Norway and Greece – celebrating along the way, since [x]-Rx gigs are first and foremost about amping up the party!

Thus, in 2014 the time was right for new material. Pascal Beniesch created a musical masterpiece using with well-known components and tried and true configurations. The result was twelve accessible songs, full of energy and power, ready to conquer the dancefloors once more!

Crank It Up! Full of bass, dynamics and the burning need to turn it up louder! Crank up the volume!
The name captures the spirit!

Zurück zur Line-Up Übersicht / Back to line-up overview