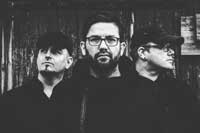 In 2016 präsentiert die deutsche Bodywave-Institution A M N I S T I A ihr langerwartetes 5. Album "Dawn". Die Band hat ihren Sound unter Zuhilfenahme mehrerer analoger Synthesizer weiterentwickelt und mit großem Einsatz Soundforschung betrieben, um komplexen Bodywave zu schaffen. Das Können der Köpfe hinter A M N I S T I A im multi-geschichteten Sound mit harten Beats, kopffüllenden Melodien, direkten Texten und komplexen Songstrukturen ist gereift. Das Album "Dawn" ist im Ergebnis Kopf, Herz und Körper gewidmet.

A M N I S T I A ist zurück und sie waren nie so stark!

"Dawn" limitierte Erstauflage 2CD / streng limitierte Sammler-Box (50)
- english -
In 2016, the German bodywave-institution A M N I S T I A presents its long awaited 5th full length album "Dawn". The band further developed its sound with several analogue synthesizers and put a lot of effort in sound-research to achieve complex dark bodywave. The heads behind A M N I S T I A have matured skills in multi-layered sounds in connection with hard striking beats, head-filling hooks, straight talking lyrics and complex arrangements. As a result the album "Dawn" is dedicated to head, heart and body.

A M N I S T I A is back and they never were that strong!

"Dawn" Limited first Edition 2CD / strictly limited Collector's Item Boxset (50)
Zurück zur Line-Up Übersicht / Back to line-up overview