- englische version / english version -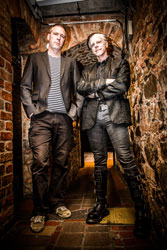 Following their stellar debut album, "Silver Lining of the Mushroom Cloud," the German/American duo, HarmJoy, performed live in Germany in 2015 at the Kasematten Festival in Halberstadt and again at Wave Gothic Treffen in Leipzig. Hailing their upcoming album, "Pain Tolerance," HarmJoy returns on March 5th to play at the E-Troplis Festival in Oberhausen, Germany. With music by German artist Ølåf Å. Reimers (from the EBM band Tyske Ludder) and vocals/lyrics by Dan von Hoyel (from San Francisco and the voice of the Swedish synthpop band TITANS), HarmJoy injects industrial music with its unique blend of rich vocals and dynamic musical nuances.
Like the German term Schadenfreude (the origin of the band's name), HarmJoy's music captures many coexisting opposites. Their dark and danceable style blends bleeding-edge beats and sounds with nostalgic musical flavours grown from the duo's long experience in EBM, goth and synthpop. Their rich vocals and painstakingly, thought-provoking lyrics evoke simultaneous feelings, like pleasure and pain, anger and elation, and loss and rejuvenation. HarmJoy's visuals borrow from the aesthetics of 1950s household fetish, bondage and discipline, and the Cold War era. HarmJoy brings an intellectual edge to electronic dance music that is both ironic and iconic.

Dan von Hoyel

San Francisco, autumn 2015
Zurück zur Line-Up Übersicht / Back to line-up overview